Manned/ Unmanned Security
We have burglar alarms:
Wired or Wireless systems

To suit your needs and budget

Phone call alerts to you and other key holders in the family or 24/7 monitoring with police backup

Reliable, up to date

7 days a week maintenance teams
Don't give Burglars your Business!
"WE ARE HERE TO SERVE YOU"
We offer a complete home security package, which includes:
A burglar alarm system

that rings your mobile phone plus other 3 members of staff and the Police if any of the sensors is activated. or 24/7 monitoring station to keep an eye on your business for you
CCTV cameras

to capture the images of people inside and outside your home and record the footage to provide evidence for later. It's the best way to catch the burglars if you are a victim.
Access control

– Audio and visual devices that allow you to see who is at the front door before you open it.
Our burglar alarm installers supply and fit the latest technology with quality components at competitive prices


CCTV Systems are a very effective way of helping to secure your business and your home.
These not only act as a visual deterrent but are also a very important resource to have in the event of prosecutions following damage or theft from a business.

CCTV range
CCTV systems are installed to help secure and run your business effectively. These vary from single cameras to multiple HD camera systems designed to watch your entire workspace, with a combination of internal and external cameras.
Camera technology has advanced over the years, as well as being far more affordable,we recognise the need to offer our customers the best closed circuit television solution, whatever their budget.
If you are looking for commercial protection or Home CCTV Systems, we are able to offer both low cost and high spec systems using the latest technologies and brands.
Wireless, Colour or Night Vision CCTV Cameras?
We have all the latest technical specifications, like wireless installation, colour or night vision.
Can I see what's happening in my home or work place when I am away?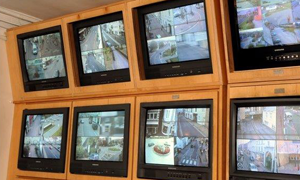 By using the latest available technologies, we are able to offer several options for viewing your CCTV coverage.
The standard way, through a TFT Monitor, but also on a laptop whilst anywhere in the world through a computer or smart phone.
External System Monitoring
Obviously it is just not possible to look at a screen 24/7. For the ultimate in business security, see our 24 hour monitoring service. We will gladly keep a check on your surveillance cameras through our Monitoring Station, which will be alerted immediately once one of your sensors is activated. This allows us to contact either pre-agreed key holders or the emergency services.