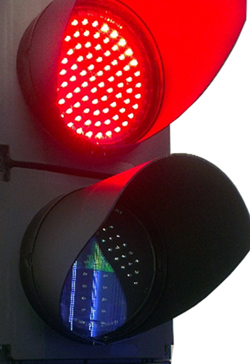 Traffic signal installations form an important part of the highway network
and the effective operation and maintenance of these installations are
pivotal for the safe movement of traffic, pedestrians and cyclists.
Road networks are becoming more and more congested and therefore the need for maintaining the traffic signal installations and indeed other highway infrastructure is becoming increasingly important. Congestion causes increased delays to journeys and this impacts on the economy and the environment (raised levels of carbon dioxide) and we are here to tackle this problem head-on
Traffic signal installations require a good regime of maintenance, whether it is reactive or preventative. The maintenance funding for these installations is coming under increased pressure to demonstrate 'value for- money', performance driven reporting (SPIG) and providing specific levels of service to customers. We take care of this and you don't have to worry Traffic signal technology is evolving and changing all the time and therefore the maintenance regime related to new developments is still in its infancy. Many of these innovations are related to reducing energy consumption together with the associated carbon dioxide reductions.
S
uch recent technologies are LED (light emitting diodes) signal heads and
ELV (extra low voltage) controllers. These technologies are part of our future maintenance regime as they provide 'value for money'; taking into consideration whole life costs, including initial capital cost, maintenance, energy and operation of equipment.
Traffic signal installations generally have a 'design life' of approximately 20 years after which; it is standard practice to renew the site to minimise the maintenance costs, reduce the fault occurrences and hence the reliability and efficiency of the installation.